MH17 crash in Ukraine: Student Richard Mayne believed to be among passengers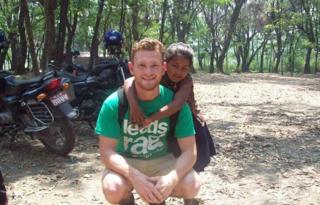 A student from Leicestershire is believed to have been among the passengers on Malaysia Airlines flight MH17, which came down in eastern Ukraine.
Richard Mayne, 20, was a student at the University of Leeds.
Mr Mayne's family believe he was among 298 people on the Boeing 777 flight to Kuala Lumpur, which took off from Amsterdam.
At least nine British people were on the flight, the airline has said.
Bristol student Ben Pocock, who was studying at Loughborough University, was also among those that died.
According to a JustGiving page Mr Mayne set up, he flew to Nepal in March earlier this year for a charity trek to the Everest Base Camp.
'Thirst for life'
He wrote that he was volunteering at a local school to help underprivileged children with learning difficulties.
The Leeds student union's fundraising organisation, Leeds Raise and Give, tweeted: "We are deeply saddened to hear of the death of RAG member Richard Mayne on board MH17. Thoughts and sympathy are with his family and friends."
Mr Mayne was deputy head boy at The Dixie Grammar School in Market Bosworth, Leicestershire.
He left the school two years ago to study mathematics with finance in Leeds.
Head teacher John Wood said in a statement: "All of us in The Dixie Grammar School community are devastated to hear the tragic news of Richard Mayne's death on the Malaysian Airlines flight.
"Richard had a great thirst for life and he wanted to make the world a better place.
"It is tragic that his life has been cut short, especially under these circumstances - he had such a great future ahead of him."
'Passionate about rugby'
He said Mr Mayne was a "great all-rounder, good academically and also a keen sportsman", being part of the school's successful rugby team.
"But more importantly than this, Richard was an extremely pleasant and thoughtful young man who gave his time generously for everyone," he said.
"I last saw him just a month ago, when he talked with me excitedly about his trip to Everest Base Camp earlier this year.
"He had gone on this expedition with a fellow former student of ours and they had been raising money for a children's charity."
On Mr Mayne's Facebook page he said he was from Leicester and had previously attended Market Bosworth High School.
He was a keen rugby player, appearing for Market Bosworth Rugby Club more than 200 times and lifting the RFU Under 17 National Cup in 2011.
Club chairman David Shakeshaft said Mr Mayne was a "very talented" player and "immensely liked".
"Passionate about his rugby he was looking forward to playing in Australia where he was heading to continue his studies," he said.
"His last game for us was in a charity match, which was so typical of his good nature, he was so willing to participate and help wherever he could.
"We are completely devastated by the news and the club will feel his loss for a very long time to come."
The University of Leeds Rugby Union Club tweeted: "Hearts go out to the friends & family of Richard Mayne, a popular clubman taken from us too soon. We pay tribute to an honest and kind man."