De Montfort University embarks on £136m campus revamp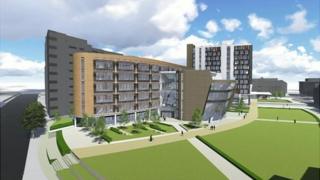 Work has begun on a multimillion-pound development at Leicester's De Montfort University (DMU).
Bankrolled by international businessman Dr Jonathan Choi, the £136m Mill Lane campus will boast new fashion, design, art and architecture departments.
A new creative and cultural centre will be named for Dr Choi, who is chairman of the Hong Kong-based Sunwah Group.
A ceremony that celebrated Chinese culture was staged on Wednesday to mark the start of work on the project.
Dr Choi, whose Sunwah Group is part funding the £136m development, said: "It is backed by the Chinese government. In the future we hope that more Chinese leaders will come over to visit our centre.
"With this centre we can work well with the UK community. Besides that, I think we can have more collaboration between China and the UK in education," said Dr Choi, who also runs the Sunwah Foundation.
The Jonathan KS Choi Creative and Cultural Centre will focus on student exchanges and an increased cultural understanding, showcasing a variety of work from Chinese dance to British fashion.
Vice chancellor of De Montfort University Prof Dominic Shellard said: "We have been working with Sunwah since 2004 but we are moving into a whole new phase of partnership starting with this centre."
Nearby residents have been reassured they will not be disrupted by the project.
City councillor Patrick Kitterick said there had been a mixed reaction to the site - but claimed any problems raised should be resolved.
"There were concerns when Mill Lane was closed because it did divert traffic on to places like Grasmere Street.
"A lot of that traffic goes to Leicester Royal Infirmary and we are told they are looking to sort out their car parking with a planning application and that should help the general situation," he said.