Leicester Caribbean Carnival to charge entrance fee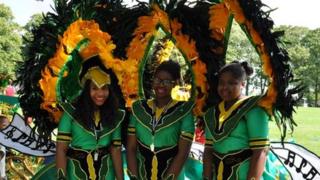 Organisers of Leicester's Caribbean Carnival will charge an entry fee this year after council funding was cut.
It will be the first time in the festival's 28-year history that people must pay to attend.
The decision was made after the city council reduced funding for the annual event from £100,000 to £60,000.
City mayor, Sir Peter Soulsby said the festival which celebrates the city's Caribbean culture was still given more money than other events.
'Draw the line'
Chairman and organiser Dennis 'Sugar' Christopher said the charge was needed in order for the festival to survive.
"Charging has been on the cards for the past couple of years otherwise we would have to finish it for good," he said.
"My time is voluntary and I have been putting my own money in which I never get back. I can't afford to carry on funding it.
"We have to draw the line somewhere."
The street parade will remain free but entrance to celebrations in Victoria Park will be £3 per person.
Exceptions will be given to under 12s and over 60s.
Leicester singer Carol Leeming said the city should be looking at London's popular Notting Hill Carnival as a business model.
"We should be looking at a sponsorship model and I think public bodies should be helping the carnival," she added.
Sir Peter said reducing the funding had been as a result of pressures put on the council by government cuts.
He added: "I very much hope that people will think the £3 a head is a modest price to pay for something that is very much a part of Leicester's festival programme.
"I certainly wouldn't want a situation where they will need to charge so much that it will stop people from attending."