Leicestershire policing: Theresa May asked to intervene in PCC-Mayor row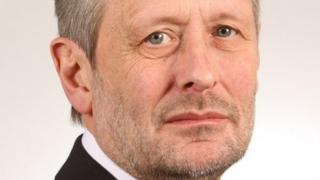 Leicester's mayor Sir Peter Soulsby has written to Home Secretary Theresa May asking her to intervene over proposals to restructure policing.
He has accused Leicestershire's police and crime commissioner (PCC) Sir Clive Loader of plotting changes without proper consultation.
But the PCC denied doing "anything underhand".
Plans include combining two command units and replacing 15 local police units with eight neighbourhood areas.
The force is looking to cut £15.4m by April 2017, and a further 300 jobs are expected to be axed over the next three years.
'Irresponsible'
Sir Peter argues that the proposed new police model would "threaten community policing".
In the letter to Ms May, he described his "shock" that he was not informed of the proposed changes.
"We have been partners together in policing and community issues for our neighbourhoods," he said.
"That has been all put at risk at the result of the irresponsible behaviour of the PCC and failing to talk with us.
"They are fundamental changes that affect all of us, that require discussions, and there's been none whatsoever."
But Sir Clive retorted: "The responsibility for how policing is delivered lies with the chief constable, but it [the proposal] has not been presented as a 'fait accompli'.
"It's not been purposeful and not doing anything underhand.
"The public that I represent do not care about the command structure, but about the safety of their streets, homes and families."
The PCC described the letter sent to the home secretary as "a little pre-emptive".