'Ahimsa' slaughter-free dairy farm set up in Groby, Leicestershire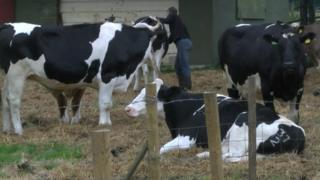 Britain's first slaughter-free dairy farm run to "revolutionary" welfare standards is being established in Leicestershire.
Male calves born to dairy cows are normally killed or sold for meat, while female cows are killed when they get older and cannot produce as much milk.
The Ahimsa Dairy Foundation already produces milk in partnership with an organic farm in Kent.
It now wants to establish a dairy farm run entirely to its own principles.
The organisation was inspired by the farm at Bhaktivedanta Manor, in Hertfordshire, which is run by the Hare Krishna movement after being donated by Beatles musician George Harrison.
The new farm will be on land in Groby, Leicestershire, which was donated by a Hare Krishna temple.
Nicola Pazdzierska from the Ahimsa Dairy Foundation said: "A cow can live until she's 20 years of age but in a lot of conventional dairies they are culled when they are five or six.
"We think that's no way to repay the generosity of a cow after all that she's given us."
The not-for-profit organisation's "vision" includes cows being milked by hand rather than machine, and cows being retired following milk production, rather than killed.
Bulls will be used to prepare the soil and help grow vegetables.
"We very strongly argue that there's a very strong case for using bulls today," said Ms Pazdzierska.
"They don't contribute to climate change, they don't use fossil fuel, they don't compress the earth as a tractor does.
"The health and the quality of the soil is absolutely vital to being able to grow food."
An appeal has been launched to help set the farm up, but the plan is for it to become self-sustaining.
Many people in the organisation are Hindu, and Hindus regard cows as sacred.
The milk production follows the teaching of Ahimsa, which is often translated as non-violence.