Hinckley bare knuckle fight 'must be stopped'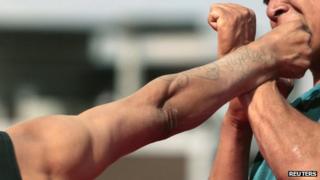 Promoters hoping to put on a bare knuckle boxing match will meet with police later to see if the bout can go ahead.
More than 1,000 people are expected to attend the fight at Hinckley United's former ground on Saturday.
David Tredinnick, Conservative MP for Bosworth, said the sport was "illegal" and must be stopped.
The fight's promoters denied it was against the law and are set to meet with Leicestershire Police.
'Only two fists'
Mr Tredinnick said: "I think it is a very backward step and I would be very unhappy if this fight was to go ahead.
"The opinion I've been given is that what is proposed is illegal and anyone associated with it is breaking the law."
Andy Topliffe, from B-BAD Promotions, said: "BKB [Bare Knuckle Boxing], as such, is legal, the whole point of this is to work with the police as much as possible, and try and work a way around it [so] that everybody's happy."
In the sport, fists are covered with gloves or wraps of no more than 4cm in padding, making the sport legal, he said.
Mr Topcliffe said: "At the moment the government allows a man [in mixed martial arts events] to kick a man in the head with a barefoot, to knee a man, to elbow a man... with bare knuckle it is only two fists."
Leicestershire Police said they were due to meet with the fight's organisers on Wednesday afternoon before deciding whether the fight could go ahead.