Royal Lancers march through Leicester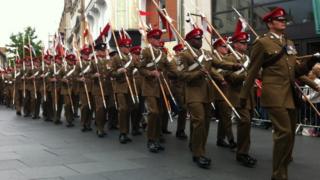 Soldiers from the 9th/12th Royal Lancers have taken part in a homecoming parade through Leicester after completing their final tour of duty in Afghanistan.
About 200 soldiers from the regiment marched through the city in front of a large crowd of spectators.
This was the last parade in the city as the Royal Lancers will merge with the Queen's Royal Lancers next year.
Marches through Derby and Chesterfield will take place later this week.
The soldiers have spent the past eight months in Helmand Province, where some were part of an operation to find Taliban weapons behind enemy lines.
The regiment last paraded through Leicester in 2011 after a six-month tour, which included training, mentoring and fighting alongside the Afghan National Army.