Leicester General Hospital maternity services may be cut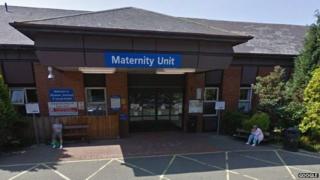 Maternity services at Leicester General Hospital could be cut as part of a plan to avoid a funding shortfall.
University Hospitals of Leicester NHS Trust (UHL) said one option was to providing care for low-risk pregnancies only, with other births moving to Leicester Royal Infirmary (LRI).
Chief executive John Adler said a full maternity service could no longer be maintained safely at Leicester General.
A UHL consultant obstetrician said the LRI could not support extra births.
On Tuesday, the trust announced its five-year Better Care Together plan to introduce major changes to services in Leicestershire and Rutland to avoid a £400m funding shortfall by 2019.
It proposes cutting the number of sites where acute care is provided in Leicester from three to two.
'Simply unsustainable'
Mr Adler said having costly intensive care facilities at all city three hospitals was not sustainable.
"We cannot lead a full obstetric maternity service at the General because in order to do so safely we would need to maintain intensive care at the hospital... our doctors are saying that is simply unsustainable," he said.
"If we are concentrating more services at the LRI we have to answer access issues... particularly car parking.
"The LRI is a specialist hospital dealing with high-risk pregnancies and vulnerable babies."
Mr Adler stressed that parents would be consulted before any final decisions were made.
Consultant obstetrician Ian Scudamore said: "We have about 4,200 deliveries a year at the General and we can't fit all those into the LRI with the current set-up, which is full.
"Once a maternity unit's delivery service gets to a certain size, it's going to need the acute service support that we are talking about removing from the General.
"We don't know how many low-risk midwifery-led births we could safely do at the General."
Raissa Cayless, a mother who gave birth at Leicester General, said: "Pregnancies can start off as low-risk, but things can get complicated during labour... so they have to be taken to the LRI anyway for emergency treatment, which can affect mothers' early bonding experience with their babies."