Jimmy Savile report uncovers Roecliffe Manor child sex abuse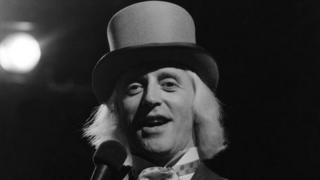 Sex abuse at a children's convalescent home was uncovered after an investigation was launched into allegations against Jimmy Savile.
The victims were residents at Roecliffe Manor, in Woodhouse Eaves, Leicestershire, in the 1950s and 1960s.
Leicestershire Police said officers are investigating the attacks.
The report said it was unclear whether the alleged abuser at the home was the former Radio 1 DJ and Top of the Pops presenter.
'Full co-operation'
University Hospitals of Leicester NHS Trust (UHL) was asked in January to investigate an allegation that Savile had sexually abused a child at Roecliffe Manor, as part of claims dating back to the late 1950s.
The trust employed an independent investigator, who found that the property was not associated with the NHS but local charity ARC Leicester, which has been helping with the investigations.
The report found it was not possible to directly associate Jimmy Savile with abuse that took place, or to prove that he visited the home.
The extent of the abuse is unknown, the report concluded.
Carole Ribbins, director of nursing at the trust, said: "Even though the claims date back to the late 1950s, we found it really important to review all our polices and procedures to make sure we were as robust as possible."
One victim who claimed he was attacked by a man he believed was Savile, told investigators he thought the entertainer was involved in the death of another child.
However, no reference to a child's death could be found in the records of Roecliffe Manor, which closed in 1969.
Both ARC Leicester and UHL are implementing recommendations following the report, one of which is having a policy in place for visiting celebrities.
A statement from Leicestershire Police said detectives had started an investigation to determine if abuse took place at Roecliffe Manor and if so to what extent.
"There has been full co-operation between various agencies to share information and review available material," the statement said.