Leicester General Hospital care delays in baby death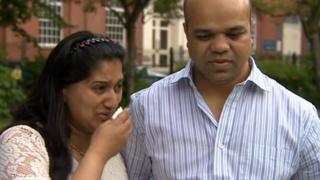 A woman did not receive adequate medical attention at a hospital which led to the death of her newborn baby, an inquest heard.
Dayani Chauhan-Ahmed died hours after her birth at Leicester General Hospital last October.
The inquest was told that medical staff on the labour ward were overstretched, which led to delays in emergency care.
Hospital bosses said its procedures at the maternity unit have now been changed to prevent it happening again.
Staff can now seek urgent medical assistance from outside the unit if necessary.
'Such a tragedy'
The infant's birth was delayed causing brain damage, which later led to her death.
The coroner recorded a narrative verdict saying Dayani's death was due to natural causes contributed to by neglect.
After the inquest, her mother an emotional Kavita Chauhan-Ahmed said: "It probably helped to get a bit of closure, but as a parent your child is always your child."
Father Tofail Ahmed: "We do try to move on, we're not stepping back, but looking forward.
"This is a fantastic conclusion from the coroner."
Elaine Broughton, from the hospital, said: "We will do our absolute upmost to make sure it doesn't happen again because we take this very seriously.
"We can't say sorry enough to Mr and Mrs Chauhan-Ahmed and the loss of their baby Dayani. It's such a tragedy.
"We will do our upmost to get the new policies embedded and rolled out and make sure everybody, including new staff, know about them."
Overstretched staff
The 34-year-old mother was expecting her first baby and had a normal, low-risk pregnancy.
When she was admitted the hospital was experiencing an exceptionally busy night.
All the rooms were full and there were two critical cases being dealt with by all the senior doctors in theatre, leaving staff overstretched.
The inquest was told that a drip to speed up the birth was not administered for more than an hour - 30 minutes beyond the recommended limit.
Also, doctors were too busy to come back to review Mrs Chauhan-Ahmed during the birth, the inquest was told.
At one point, a midwife had to interrupt surgery to ask for urgent medical assistance.
A junior doctor was available but could not carry out an instrumental delivery, which was needed.
In the end, baby Chauhan-Ahmed was born naturally and taken to Leicester Royal Infirmary to be put on life support because she had suffered brain damage, but she later died.