Leicester fire deaths widower calls for severe sentence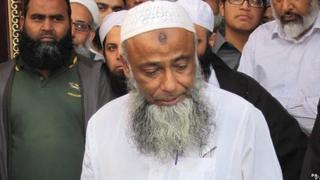 A man who lost his wife and three children in an arson attack has said the convicted men should never be released from prison.
Shehnila Taufiq, 47, daughter Zainab, 19, and sons Bilal, 17, and Jamal, 15 died in a house fire, in the Wood Hill area of Leicester on 13 September.
Seven men and a teenager were convicted on Monday for their part in the attack.
Dr Muhammad Taufiq said their sentences should aim to stop "inhumane crimes" happening again.
Kemo Porter, 19, and Tristan Richards, 23, were found guilty of murder.
Shaun Carter, 24, Nathaniel Mullings, 19, Jackson Powell, 20, Aaron Webb, 20, Akeem Jeffers, 21 and Cairo Parker, 17, were found guilty of manslaughter.
All eight defendants will be sentenced on Wednesday.
'Bird without wings'
An emotional Dr Taufiq broke down at times as he gave his victim impact statement at Nottingham Crown Court.
"I cannot say that I am living. I merely exist. I am like a brutally wounded bird without wings," he told the judge as the convicted men sat in the dock.
"My view is that such criminals should not be let outside of the prison for the rest of their lives to prevent such a crime reoccurring, to set an example of intolerance of such inhumane crimes and, as a result, to keep our society safe.
Dr Taufiq, a paediatric neurosurgeon, continued: "The fire has stolen everything from me.
"I have lost my soul-mate, my confidante and my best friends. I have no-one to talk to and share my feelings with.
"I feel terribly lonely. I feel haunted by the past and the reality of it haunts my future.
"I feel sad, angry, betrayed and isolated. My loneliness is unbearable.
"I didn't get to say goodbye."
However, Dr Taufiq, who was working at a hospital in Dublin at the time of the "botched revenge attack", said he had no hatred for the eight men convicted.
"You hate crime. You don't hate individual people," he said.
During the trial, the jury heard the defendants had intended to target the house of another man who they believed had stabbed their friend.