Leicester City mayor moves out of condemned offices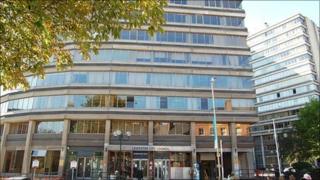 Leicester's elected mayor and his staff have moved out of the council's offices ahead of its demolition.
The two 1970s blocks at New Walk, which house about 1,200 staff, were found to be structurally unsound in 2009.
Departments have been gradually moved to other city centre buildings and a skeleton staff remained to move computers and other equipment.
Contractors will move in early next month but the date and method of demolition have yet to be finalised.
A £20m price tag has been put on the move but the council has insisted it will save millions in running costs.
Officials said there had been a "tremendous" amount of interest in developing the site and they were in discussions with three shortlisted firms.
Leicester City Mayor Peter Soulsby said: "New Walk Centre has been the home of the city council since the mid 1970s, so the number of discussions which have taken place here and the number of important decisions made over the years are too many to mention.
"Once all staff have left and the demolition firm has had time to examine the structure in detail we'll have a clearer idea of how the demolition will proceed."