M1 motorway reopens after lorry fire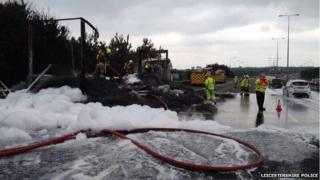 The M1 has reopened after severe delays caused by a fire on a lorry carrying mattresses.
The blaze broke out at about 8:30 BST on Thursday and was so ferocious it damaged tarmac and safety barriers.
The northbound carriageway was closed between junctions 22 and 23a in Leicestershire for 18 hours.
There were also delays on the southbound carriageway as drivers stopped to look at the blaze.
Police said the road, one of the UK's busiest motorways, was fully reopened at 2:30.
The fire is thought to have been caused by an electrical fault in the lorry's engine.
Firefighters remained at the scene for most of the day, putting out the fire before helping with recovery work.
Drivers who were caught in traffic behind the fire had been forced to wait on the tarmac for several hours, until one lane was temporarily reopened to clear the backlog.
A 20-mile diversion was also put in place.
Nobody was injured and the nearby East Midlands Airport said the fire did not affect flights.