Charles Booth's Leicestershire Green Plaque honour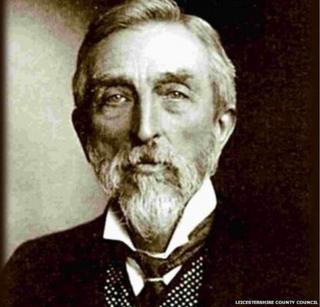 Famous social reformer and philanthropist Charles Booth is the first of six to be honoured with a Leicestershire Green Plaque.
The plaque, designed to celebrate the county's important people and places, is to commemorate Mr Booth's generosity towards the people of Thringstone.
Mr Booth built England's first community centre in the village, where the plaque was unveiled.
He helped introduce an old age pension scheme and free school meals in the UK.
Mr Booth, born in 1840, is most famed for his innovative work on documenting working class life in London at the end of the 19th century.
In the early 20th century, his work against poverty helped influence the government to introduce the universal Old Age Pension and free school meals for the poorest children in the UK.
'Thoroughly deserved'
His granddaughter Fanny Hugill said she was "delighted that my grandfather's work and dedication is being recognised by the people of Leicestershire".
Leicestershire County Council leader Nick Rushton said: "Charles made such an impact on Thringstone and its surrounding villages so he thoroughly deserves this recognition of his work.
"He also donated the building and surrounding land where the community centre is located so it's totally appropriate for the green plaque to be installed at the entrance to the building."
Mr Rushton added the green plaque idea had come from a blue plaque event he attended.
Nita Pearson, one of those who nominated Mr Booth for the award, said: "He was a successful businessman who always thought of others less fortunate."
He is also remembered with a blue plaque, which is on the house where he lived in South Kensington, London.
Others chosen for the award:
Brig Gen James Lochhead Jack, awarded the Distinguished Service Order (Kibworth)
Flt Lt Geoffrey Rice DFC RAF VR, Dambuster pilot (Burbage)
Alice Young, missionary and teacher (Enderby)
Graham Chapman, founding member of 'Monty Python's flying circus' (Wigston & Melton)
The John Taylor Bellfoundry, Loughborough