Expert to tackle Leicester Royal Infirmary's poor emergency care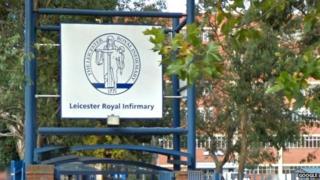 A "trouble-shooter" has been recruited to tackle the ongoing problems with a Leicester hospital's emergency care system, a health boss has confirmed.
Latest NHS England figures showed that Leicester Royal Infirmary's (LRI) A&E department was once again one of the worst performing hospitals in England.
Dr Ben Teasdale, the clinical lead at the A&E unit said the specialist will look at "issues across the system".
The expert will advise the hospital until the end of the year.
'Utterly powerless'
The new figures revealed that about 83% (just over 17,500) of about 21,000 patients were seen within four hours at the LRI's A&E unit in May. The target and national average is 95%.
In December 2013, University Hospitals of Leicester NHS Trust admitted its emergency care system needed a major overhaul and held an urgent meeting.
It also planned to recruit 200 new nurses and build a new A&E unit at the LRI by 2016. Plans to expand the A&E department are being discussed.
Dr Teasdale said Dr Ian Sturgess, from NHS Interim Management and Support, has worked with 140 different trusts across the country over the last five years to help transform departments.
"He will be very clearly pointing out everyone's responsibility to improve our performance," Dr Teasdale said.
"For too long we have assumed the problem can be solved just in the A&E department... but there are issues across the system.
"We are one of the largest A&E departments in England, our usual attendance over the last year has been about 550 patients a day and, more recently, it has gone up to 700.
"There are some days when we are utterly powerless to do anything about our performance."
In May, two other trusts in England were found to be performing worse than LRI; Wye Valley NHS Trust, in Hereford, achieved 80%, while Peterborough and Stamford Hospitals NHS Foundation Trust performed at just under 83%.