St Luke's Hospital in Market Harborough is 'waste of money'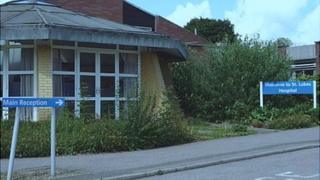 A Leicestershire MP has asked health secretary Jeremy Hunt to intervene over a troubled community hospital.
In 2012, the extension to St Luke's Hospital, Market Harborough, opened 18 months behind schedule and £900,000 over budget.
The next phase is set to start this year but Sir Edward Garnier MP said it was underused and a waste of money.
The commissioning group that runs the hospital said it expected a contractor to be appointed in July.
'Simply inexcusable'
Mr Garnier, MP for Harborough, said the setbacks were "not good enough" and has written to Mr Hunt.
He said: "Consultants from the main hospitals in Leicester won't come out to the day case centre because there isn't a recovery room for people who have been under a general anaesthetic.
"All of this should have been thought about, it's a huge waste of public money, it's simply inexcusable."
Dave Briggs, managing director of East Leicestershire and Rutland Clinical Commissioning Group, said: "We have been applying pressure to all the different agencies to make sure this project moves as quickly as possible.
"There's been quite a significant turn of activity and we're expecting the contractor to be announced in July. Then we should rapidly see work commence on phase two of St Luke's."
A total of £6.8m from NHS England was earmarked for St Luke's Hospital, in January, 20 years after the redevelopment was first discussed.
In 2011, the project struggled to make progress due to delayed and damaged prefabricated units. The contract of supplier Modcon UK Ltd was later terminated.
The Department of Health has confirmed it has received Sir Edward Garnier's letter and said it would issue a response in due course.