Hundreds evacuated after Leicestershire factory blaze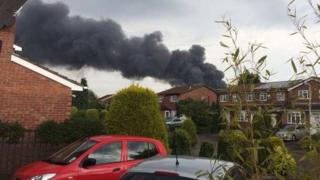 Hundreds of staff had to be evacuated from a factory during a "large" chemical blaze in Leicestershire.
More than 40 firefighters tackled the blaze when smoke was reported just after at 06:30 BST at GE Druck Limited, in Fir Tree Lane, in Groby.
Leicestershire Fire and Rescue Service said there was a chemical spill in the building and the flames "spread rapidly" but it was now out.
An investigation into the exact cause of the fire is under way.
The fire service said people living in nearby homes and businesses could return after being evacuated from the buildings as a precaution.
The extent of the damage to the factory is not yet known.
Paul Weston, from the fire service, said: "The site contains various chemicals, but they weren't involved in the fire.... as the crews stopped the fire from spreading to the chemical store."
Black smoke
Mr Weston added the smoke turned out to be "no more toxic" than that of a house fire.
"As a precaution we set up a cordon of 200m and evacuated a number of homes and businesses closed in the area due to the restriction of gaining access... but this has now been lifted," he said.
Chief fire and rescue officer Dave Webb said: "Although this is a large, hazardous fire, crews from nine stations across Leicestershire Fire and Rescue Service have prevented it becoming a major incident and working together now have the fire under control."
Some concerned parents had taken their children home from Martinshaw Primary School, which is near the factory on Forest View.
Nearby roads, including Ratby Road, were earlier cordoned off and eyewitnesses reported large clouds of black smoke in the area.