Leicester fire deaths 'devastated the whole community'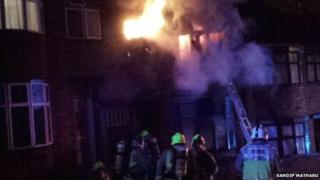 A mother and three children had their lives taken away in minutes in an arson attack on their home. What was the family like and how has the community coped since their deaths?
While the Taufiq household slept a gang targeted their home in revenge for the earlier killing of their friend.
Except they had got the wrong house.
The fire in Spinney Hill Leicester, on 13 September last year, engulfed the house killing Shehnila Taufiq, 47, daughter Zainab, 19, and sons Bilal, 17, and Jamal, 15.
Seven men, and a teenager have been found guilty of causing their deaths. Two of them were convicted of murder and six were convicted of manslaughter.
The trial heard how petrol was poured through the front door letterbox shortly after midnight before a cigarette lighter was used to start the fire.
Prosecutors said the family had become trapped upstairs "with the primary means of escape unavailable".
Firefighters found their bodies together in one of the back bedrooms.
Neighbour and friend Nazma Amamji says she still has flashbacks of that tragic night and for two months could not stand in her kitchen which overlooks the Taufiq's home.
She said her sons often played football with the two boys and were still struggling to come to terms with the deaths.
"In a shot of a second I never saw them again. To lose them is a tragedy," she said.
"It was horrendous, everybody shouting, trying to break the windows. Everybody was out there to do something.
"I was just devastated. They were a second family to us. Our lives have really changed."
Mrs Amamji paints a picture of the peaceful, respectful family who lived next door.
"She (Shehnila) knocked on my door eight years ago like an angel, introduced herself to me and we just got on from there," she recalls.
"The children were lovely. I treated them like my own.
"The people who have done this are just sick. I don't know how they can do it. You have to have a really disgusting heart to do something like that."
'Family dream'
The family were regular worshippers at the Jame Mosque in Asfordby Street, Leicester.
Shehnila Taufiq, a scholar and cleric, and her children had moved from Dublin to Leicester to carry out theological studies at the Jame'ah Uloomul Qur'an Muslim school.
Photos of her and her daughter were not released to the media in order to protect their modesty.
Her husband, Dr Muhammad Taufiq Al Sattar, stayed in Dublin where he works as a neurosurgeon at Beaumont Hospital.
Dr Sattar, 52, said his family had planned to return to Dublin at the end of their studies to open an Islamic community and education centre.
He said they had recently spent their life savings on buying a derelict house in the Blanchardstown area of the city and he vowed to fulfil his family's dream.
"They had a vision for life in Ireland," added Mrs Amamji.
"The project was very, very important to them."
Shopkeeper Sattar Raidhan added: "They were well known. They didn't have any quarrels with anyone round here.
"How does this happen to a nice family like them?
"They were a very good, religious family."
Hours before the attack on the Taufiq's home Antoin Akpom, a local football coach, had been stabbed to death in the street following an argument.
Police very soon linked the two incidents and said the house fire had been a case of mistaken identity.
The defendants had intended to target the home of a man they believed had stabbed their friend. However, he lived elsewhere on the street.
Community leader Suleiman Nagdi MBE said the night's events had shocked the whole of Leicester.
"In my 36 years living in Leicester it was one of the worst days of my life here," he said.
"The situation that arose was something I had never woken up to. It had a devastating effect on the whole community.
"What took many of us by surprise was Dr Sattar's tower of strength. He never spoke about revenge. He simply wanted to put his wife and children to rest.
"I think he drew strength from his religion and it helped him through the troubled time.
"We are a very strong community here and cohesion is something we pride ourselves on.
"The Taufiq family has shown us that at a time like this we can still stand together, forgive each other and I think that is important for us."
'Revenge is bitter'
The eight defendants had met through their love of football at Leicester Nirvana FC. It was there that they also met Antoin Akpom.
Football coach Dilip Chauhan said the group "were not known street boys".
"There was a big shock in the community that it was these boys that were arrested," he added.
"I do feel a bit responsible that the youths we were mentoring and guiding have ended up like this."
Friend of the defendants Roy Cole said their motive would have been revenge for losing one of their own.
"The only thing that would have gone through their heads was that they needed to get revenge," he said.
"They had lost one of their own and they wanted to show this individual that they were serious.
"The flames of Wood Hill, the blood on Kent Street, the funeral at Spinney Hill park - those things will never go away.
"What we can do is hope and pray that we can rise from the ashes and turn this awful situation into something positive.
"And we can learn that revenge is not sweet, it's actually bitter."