Leicester's UK City of Culture bid events scrapped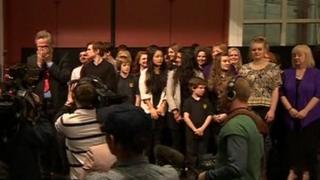 Plans for events to celebrate the City of Culture in Leicester have been scrapped despite the mayor saying they would go ahead.
Leicester lost out to Hull in the battle but Sir Peter Soulsby promised to put on the "best" from the bid and "earlier than planned".
But he has now admitted that they will not be held and instead the council will focus on long-term investment.
He said Leicester did not need a programme of events.
As part of the bid for UK City of Culture, Leicester planned a programme building on regular events such as Diwali and the comedy festival.
It was to include a festival of light, a celebration of cinema and an exhibition on the lives of brothers David and Richard Attenborough.
Immediately after the government announced Hull had won, a downcast Sir Peter said: "I have scarcely dared contemplate a plan B, but we have thought about what we will do from the bid.
"We will take all that is best, we will do all that is best but we will do it bigger, we will do it better and we will do it sooner."
But now Sir Peter has admitted that is not a reality.
"We were all desperately disappointed, but what has become clear in the meantime is, frankly, we don't need a plan B, he said."
"I feared that [losing the bid] would be a real blow to our pride and confidence. Actually, what we have seen is nothing of that at all. We don't need a programme of events."
The mayor, who led the bid, denied it had all been a waste of time and money because it brought together people for a common cause.