Markfield 'death junction' campaigners want action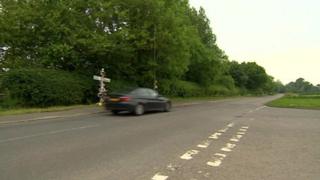 Campaigners claim a Leicestershire road junction which has seen two recent deaths needs to be made safer.
Two men have died in accidents at the junction of Ratby Lane and London Road in Markfield, in the past two months.
Sheryl Bott, whose 44-year-old partner Dale Strachan died last month, said action was needed to slow drivers down.
Leicestershire County Council said it was working with police to determine what caused the accidents and whether new safety schemes were needed.
'Too fast'
A 30-year-old man died in hospital after an accident near the junction in Markfield in March.
Residents of the village said drivers heading south on Ratby Lane often exceeded the 40mph speed limit and did not see the junction with London Road because of a bend.
Resident Bill Clooney said: "I would hope that at some point they should even consider putting a traffic lights on this junction because otherwise it is just going to get worse."
Ms Bott, who admitted she did not know what caused her partner to crash his scooter on the junction, said something needed to be done.
"I would like people to pay a bit more care and if we can stop just one family ... going through what we are going through, that would be amazing," she said.
Council spokesman Phil Crossland said there was "no evidence of an historic accident pattern" at the junction as there had not been any other serious accidents since January 2008.