Great Central Railway museum £10m lottery bid fails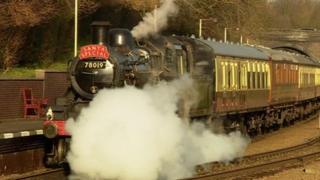 A £10m bid to create a railway museum in Leicester has been rejected.
The project, based at the Great Central Railway, would have seen a number of exhibits moved from the National Railway Museum in York.
The centre, which gets 120,000 visitors annually, is the UK's only double track main line heritage railway.
Organisers said they were disappointed but would bid again to the Heritage Lottery Fund as the scheme would bring millions in revenue to the area.
'Bid again'
The proposals, expected to cost a total of £15m, included a new building next to Leicester North station.
Also backed by the city council, it was estimated the museum and railway together would bring £43m of economic benefit to the area over five years.
Bill Ford, managing director of the Great Central Railway said "We are naturally disappointed not to make the cut first time around, but we received a lot of praise for the strong vision and our partnership approach.
"We will absolutely bid again later this year when we have received detailed feedback on the project proposal."
A statement from the Heritage Lottery Fund said: "Demand for 2014 was higher than ever and the success rate was only 30% this year.
"Unfortunately we did not have enough money to support all the applications we looked at on the day."