PCC Sir Clive Loader's Lubbesthorpe housing plan opposition overruled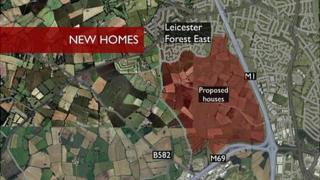 A police chief's attempt to get a 4,000-home new town blocked has been overruled by a High Court judge.
Leicestershire Police and Crime Commissioner Sir Clive Loader applied for a judicial review over the Lubbesthorpe plans, south of Leicester.
He said it would put "acute pressure" on the force adding that funding put aside for policing was insufficient.
But on Tuesday, Mr Justice Foskett QC found in favour of Blaby District Council which said it was delighted.
'Wasted time and energy'
The 1,000 acre community was given the final go-ahead in January after £40m was pledged by developers to offset its impact.
Of that funding almost £2m will go to Leicestershire Police for vehicles, communication equipment and buildings.
But Sir Clive said the situation was "untenable" and applied for a judicial review which was thrown out.
In a statement, leader of the council Ernie White said he was looking forward to work starting.
"Blaby District Council is saddened that the PCC chose to take this action," he said.
"It has cost the local taxpayer a lot of money, delayed the delivery of much needed homes and jobs and wasted everyone's time and energy."
But he added that the police and council continued to "enjoy excellent working arrangements".
Previously, Sir Clive said: "The police are not opposed to the building of new homes, but if the funding isn't put in place during the early stages of development, the impact on the service offered by police across the county will be unacceptable."