Leicester paper factory blaze 'started accidentally'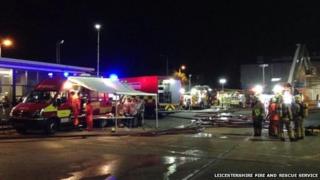 A fire at a Leicestershire paper factory that burned for almost 12 hours started accidentally, fire crews have said.
Investigators said the fire at the paper processing plant in Hilltop Road,, Leicester, began in a machine used to dry paper.
More than 50 firefighters battled the blaze from 20:30 BST on Sunday night and remained at the scene until Monday afternoon.
Nobody was hurt in the fire.