Market Harborough Tesco approved despite concerns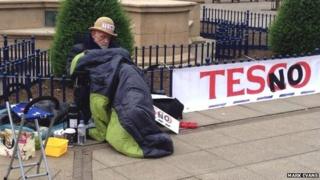 Plans to build a Tesco superstore close to a Leicestershire town centre have been approved despite concerns from local people.
The new supermarket will be built on the old Focus DIY site, on Rockingham Road, in Market Harborough.
Some shoppers and businesses against the proposals, including a man who staged an overnight protest, said there were already six supermarkets nearby.
Tesco said 200 jobs will be created and it will improve choice in the area.
Five members of Harborough District Council's planning committee voted in favour of the proposals, while five voted against the plans at a meeting on Tuesday evening.
The casting vote of the chairwoman was in favour of the new store.
'Legal challenges'
BBC reporter Tim Parker, who was at the meeting along with 70 members of the public, said the room erupted in shouts of objection.
Local businessman Ian Joule, who slept in the town centre overnight in protest to the plans, said the supermarket would "ruin" the town.
Kaysha Sharrock, who made a presentation against the scheme at the meeting, said: "Market Harborough is growing and we will need more supermarkets, but not walking distance from one another.
"We live near the town centre and can walk to all six supermarkets, so we don't need another one."
Councillor Phil Knowles said it could lead to store closures and job losses in the town.
Simon Petar, Tesco's corporate affairs manager, said there could be legal challenges from the supermarket chain's competitors in the coming months.
He added: "I can't give a date as to when we can start building but when we do it will take a year before we start serving customers."