Rutland Water osprey chick first to hatch this year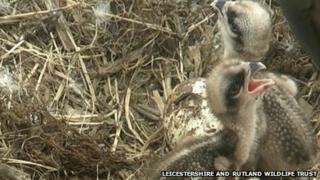 The first osprey chick of the year has been hatched in a nest in Rutland, the Leicestershire and Rutland Wildlife Trust said.
The rare birds have nested near Rutland Water for several years with 13 chicks hatching in 2013.
Although the trust webcam has not yet spotted the chick, a female osprey has been seen feeding it.
The chick is expected to be visible in about 10 days when it is big enough to pop its head above the nest.
The trust also said an osprey born in Rutland in 2012 had just returned to England successfully after spending the winter in Africa.
The bird of prey, which was spotted by a bird watcher, was seen in Chelmsford, Essex, which is about 90 miles from the Rutland breeding site.
Ospreys generally return to the area they were hatched when they reach the age of two years.
The Rutland Osprey Project observes the birds at several sites around Rutland Water from their arrival in spring through to their autumn migration.
Osprey eggs usually take between 35 and 42 days to hatch.
About 65 chicks have hatched at four nests around Rutland Water since 2001, when ospreys were reintroduced to the area.
The trust expects more chicks soon but none have been spotted yet at the other nests in Rutland Water.