Leicester Hospitals staff attacks up 600% in four years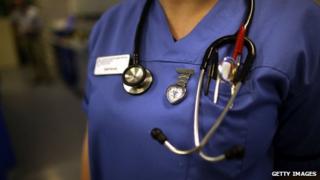 The number of reported assaults on staff at Leicester's three hospitals has risen 600% in four years, BBC Radio Leicester has learned.
Attacks on staff, including doctors and nurses, at Leicester's Royal Infirmary, the General and Glenfield Hospital rose from 30 in 2009-10 to 181 in 2012-13.
The University Hospitals of Leicester NHS Trust said it was a result of better reporting of the problem.
The trust said it was running an awareness campaign.
The 181 reports covered a variety of assaults, including physical attacks and threatening behaviour.
The figures excluded assaults with medical explanations, such as a patient being mentally ill.
'Respect needed'
Andrew Bridgen, Conservative MP for North West Leicestershire, said: "Attacks on anyone are unacceptable, but a physical assault on someone who is there to help you is awful.
"It's fairly obvious that maybe alcohol is playing a part in this.
"We need to stress to people how important our emergency services are... and we need to respect them."
Mr Bridgen, who raised the issue in Parliament, added: "We need education for people who use our emergency services and hospital staff, especially night workers, to be prepared to protect themselves."
Colin Whyatt, from the GMB union accused the NHS of putting profits and targets ahead of staff safety.
"It could be a verbal or physical assault, spitting is a common one, and... we have to enforce a zero tolerance on this." he said.
Nick Howlett from the trust, which employs more than 11,000 staff, said it was currently carrying out an awareness campaign.
"The figures are encouraging because we have been working to getting people to realise what actually constitutes as an assault and what to do," he said.
"There is a definitive plan in place for the next two to three years to highlight the issue to the public that it is unacceptable and we will take action."