Living Wage Foundation buys Next shares and protests at meeting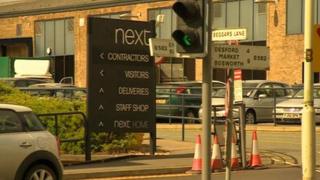 Living-wage campaigners bought shares in clothing giant Next in a bid to persuade the firm to up employee pay.
The Living Wage Foundation believes employees at the Leicestershire-based firm should be paid at least £7.65, which it says covers basic costs.
The organisation sent protesters into the annual meeting to raise the issue.
Next said that from 1 June staff will get £6.70 an hour, more than the minimum wage, plus regular bonuses that can be an extra 20%.
A spokesman for the firm added there are more than 30 applications per job advertised, which he said suggests workers are attracted by what is on offer.
The foundation bought shares in Next, which recently reported a £695m annual profit, in an attempt to sway opinion at the annual meeting.
It said it was targeting the retailer because it was a "thriving UK institution" that was already leading the way with better wages than most.
Father Michael Brown, a member of the foundation and a priest close to Next's headquarters in Enderby, said: "We would like Next to become a living wage employer.
"There are 700 living wage employers in the country. Eight of them are on the FTSE 100 index.
"Next though is a retailer and there aren't any retailers."
Earlier this year, Professor Sir George Bain, who established the minimum wage in 1999, said employers could now pay much more than the basic rate.
However, he said that if the living wage is enforced in the retail sector, it would result in mass unemployment.