Boys enticed into cars and sexually assaulted in Leicester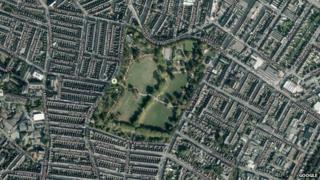 Two boys have been enticed into cars in Leicester and sexually assaulted in two separate incidents which could be linked, according to police.
Both of the cars were black, both offenders were described as Asian men, and both assaults happened in the Spinney Hill Park area.
The first boy, 12, was assaulted after being asked to help search for keys in a car on Constance Road on 30 March.
An eight-year-old boy was then enticed into a car on Mere Road on 3 May.
Det Con Rebekah Cortez said: "The two boys were shaken and upset by their experiences.
"We are keeping an open mind about whether the same suspect was involved in both incidents, but there are some similarities in the descriptions and the method used."
'Prominent' teeth
Police have increased their patrols in the area and are visiting schools to remind children of "stranger danger" messages.
The offender in the first incident was described as Asian, in his 30s or 40s, chubby, short, with reddish hair that may have been dyed.
He had "prominent" teeth, was wearing a brown or grey jacket with dark jeans, and the car was thought to be a black Vauxhall Astra hatchback.
The man in the second incident was described simply as Asian, with a black car.
There were other people present in the street when the first boy was assaulted, at about 13:30 BST, and police would like to speak to them as possible witnesses.
The second boy was picked up between about 13:15 and 13:45 and driven a short distance to the area of Spinney Hill Road, then Hartington Road.