British Pie Awards held in Melton Mowbray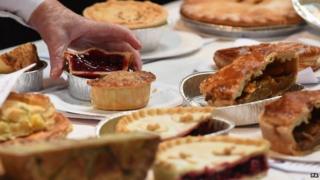 More than 800 pies have been battling it out in the British Pie Awards.
The competition, held in Melton Mowbray, Leicestershire, included pies made from salt beef and gherkins, pastrami and pickle, as well as more traditional fillings.
The annual event also had a new heroes' pie category to commemorate 100 years since the start of World War One.
Among the pies in this category was a steak, kidney and onion pie topped with the Help for Heroes logo.
Organisers said each pie was competing to be crowned Pie of Pies.
Categories included steak and ale pie, best football pie and Melton Mowbray pork pie.
Entries, apart from the new heroes' pie, must be available to buy in the shops but organisers hope to start an amateur competition.
The awards are organised by the Melton Mowbray Pork Pie Association and are now in their sixth year.
Matthew O'Callaghan, pie association chairman, said: "Britain is rightly proud of its pies and the British Pie Awards are a celebration of pie producers and bakers, putting their craft in the spotlight.
"Since the launch of the awards six years ago, the event has grown both in size and in stature.
"Whether entrants are producing pies for football fans to enjoy on the terraces, to tuck into at a pub or on a large scale to supply British shoppers, each one has the chance to be named our supreme champion for 2014."
The champion pie and category winners will be announced at an award ceremony later.