Leicester schools halal products removed over '50% beef' in lamb kebab test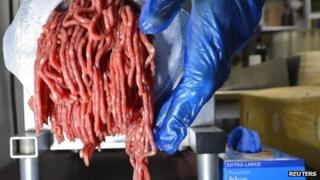 All halal meat products have been removed from Leicester schools' menus after a lamb kebab was found to contain more than 50% beef.
Routine testing in the Easter holidays found a problem in one halal lamb sheek-kebab product, Leicester City Council said.
Assistant city mayor Vi Dempster said there were no safety concerns and the move was "just a precaution".
Halal meat products are being replaced with vegetarian and fish options.
The rest of the meat in the kebab was lamb, the city council said.
Last year, Leicester City Council said pork DNA had been found in a sample lamb burger made by another food company in Doncaster.
But extensive sampling of that company's products showed no traces of meat other than those labelled.
The Food Standards Agency said no further action needed to be taken.
After the latest case, the city council has written to parents, staff and governors at the nine schools which were supplied the kebabs and has replaced all halal food with vegetarian and fish options as a precaution.
It has also told the Food Standards Agency, other local authorities, and Muslim organisations in the city.
'Entirely innocent'
Ms Dempster said: "It is not good enough that another halal product has been found to have content other than that listed on the label and we regret any distress this may cause families, and staff in our schools.
"We need to have confidence in the food we are buying and for that reason we are removing all of the halal products from our schools."
The council said the kebab was provided by Tyne and Wear-based Punjab Kitchen which said it was not the manufacturer and it was looking to take legal advice.
A spokesman for the firm said: "We would stress that the product supplied was not manufactured by the Punjab Kitchen.
"Our supplier has advised us they are working with Yorkshire trading standards concerning the findings of the tests.
"We are entirely innocent in this case, having simply purchased a product which we were advised was compliant with regards to current labelling laws and of course Halal requirements."
In March this year, a report revealed half of all meat samples tested in Leicester contained the DNA of other animals.