Adventurer Sarah Outen takes on the world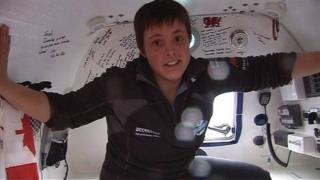 Adventurer Sarah Outen started her latest expedition in April 2011 aiming to "loop the planet" using only a kayak, bike and ocean rowing boat. Almost half-way through her challenge three years later, what keeps her going?
Ms Outen's face wrinkles into a grin and she tries to suppress a laugh as she sums up what drives her.
"I'm stubborn," she says in a matter-of-fact voice.
Her kayaking partner Justine Curgenven, who has accompanied her on two short kayaking legs - first across the English Channel and again from Russia to Japan - agrees with Outen's self-analysis.
"She has the stamina and perseverance of 20 oxen and a positive can-do attitude that has me laughing at the direst situation," Ms Curgenven says.
The pair have just started the next leg of the trek that Ms Outen now calls her "massive beast" which will take them 1,400 miles (2,250km) along the Aleutian Island chain in a daunting kayaking adventure.
Ms Curgenven lists a few of the challenges as "strong currents, raging tides, relentless winds, thick fog, long crossings, rocky landings, unchartered waters and hundreds of miles with no people".
Ms Outen estimates her entire trek - which has already taken her through deserts and tundra - will total more than 7,500 nautical miles (8,630 miles/13,888km) before it is finished.
Finger puppet
Ms Outen, 28, proposed to her partner Oxfordshire farmer Lucy Allen by satellite phone during her 150-day crossing of the Pacific last year.
She did not get a chance to celebrate with her fiancée in person until she arrived in England several months later - where she rested up for the next stage of her trek.
She had mixed emotions as she prepared to leave England for the next challenge in late April.
She tweeted: "That wonderful heady feeling of 'part-wired, part-tired, part-stoked, part-emotional' as we wait for our flight."
Six months earlier, she was alone in her rowing boat, Happy Socks, in the middle of the Pacific with her only companion - a knitted finger puppet called Chimpy. He, she says, represents her own "inner self" - or the impulsive part of her personality.
The long stretches of her trip that she spends alone present another daunting set of challenges that Ms Outen must tackle.
At times, shouting and calling out loud to her family and friends and trying to focus on "positive thoughts" were "very powerful" ways to help her through the dark days, she says.
The underlying motivation for the round-the world challenge, which will take her across Canada and the North Atlantic before she lands back in England sometime in 2015, is certainly not "fortune".
She says she will not make any money directly from her trip - even the fees she gets for speaking engagements will go to pay for expenses - adding "there is a good chance that a loan will be taken out at some point".
But she clearly feels invigorated by her ocean treks.
Back in 2007, she had already rowed across the Indian Ocean from Australia to Mauritiusto raise money for arthritis research after the death of her father.
After witnessing his struggle with poor health, she wrote in her 2011 book, A Dip in the Ocean: "Life is too short to wait and health too precious to waste".
She is also driven by a desire to inspire children to explore the world - not necessarily by rowing the Atlantic like her but perhaps by simply exploring the countryside where they live.
One of her goals after completing the "London2London: Via the World" challenge is to train as a teacher and establish a centre with her fiancée "to help children connect with nature".
Ms Outen, who grew up in Rutland but now lives in Oxfordshire, said she faced some demons at the end of her Pacific crossing.
That came as she set a record as the first woman to row singlehandedly across the Pacific from Japan to Alaska.
"I came off the Pacific Ocean pretty exhausted," she says.
"I was carrying a few infections by the end of the row and after two weeks over there - I came back to the UK and spent four days in hospital.
"I was really excited when they said it wasn't blood clots - and that it was pneumonia."
But she did question her ability to carry on as her allergies were "all over the place" and her immune system was under strain from months of intense physical activity.
And the adventurer is aware of the sacrifices she will need to make - she has already missed her brother's wedding and will miss the birth of her first nephew or niece.
But she has decided to return to her dream and take on the Aleutian Islands before biking across Canada and the US with the goal of raising as much as she can for her four main charities: CoppaFeel!, Jubilee Sailing Trust, MND (Motor Neurone Disease) Association and WaterAid.
In a section of her online blog in early-2014, she said: "For a while lately it had all felt a bit much and I questioned whether it was all worth it."
She added: "The challenges of late and the painful thought of leaving my fiancée Lucy again are just hurdles to find a way round - not reasons to call it a day".
And Ms Allen is quite clear why she thinks her partner is attracted to adventure.
"She loves nature, wildlife, the excitement, the unknown, the 'what's next round the corner', the people, places and being in wild untouched places and sharing her journey," she said.
And Ms Allen hopes to join her partner for a few months during the overland stage in North America - if she can get time off from farming.