Leicester fire deaths was 'revenge attack' on wrong house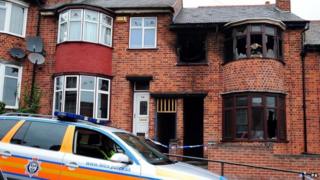 A fire which killed four members of the same family was a revenge attack on the wrong house, a jury has heard.
Seven men and a youth have gone on trial accused of setting fire to a house in Leicester on 13 September.
They are charged with the murder of Shehnila Taufiq, 47, daughter Zainab, 19, and sons Bilal, 17, and Jamal, 15.
The prosecution said the group meant to target the mother of a man they believed had earlier killed a friend of theirs - but she lived two doors away.
All eight defendants deny murder. They are:
Kemo Porter, 19, of Browning Street, Leicester
Tristan Richards, 22, of Sparkenhoe Street, Leicester
Nathaniel Mullings, 19, of Farringdon Street, Northfield, Leicester
Shaun Carter, 24, of Franche Road, Leicester
Jackson Powell, 20, of Burnside Road, Leicester
Aaron Webb, 20, Saltersford Road, Leicester
Akeem Jeffers, 21, of Carr Mills, Buslingthorpe, Leeds
A 17-year-old youth, who cannot be named for legal reasons, from Leicester
Opening the case at Nottingham Crown Court, prosecutor Richard Latham QC, told the jury the fire related to the stabbing of 20-year-old Antoin Akpom on 12 September.
He said a crowd gathered around him in Kent Street and "word was out on the street that Antoin Akpom was seriously injured". He died a short time later in hospital.
In the early hours of 13 September, the fire service was called to a house about a mile away in Wood Hill where flames had taken hold.
Mr Latham said: "The fire had been set for a retribution process for the stabbing."
Petrol was poured through the letterbox and then lit, he said, causing "one of the worse domestic fires" one fireman had witnessed in 15 years.
"The fire took hold immediately," Mr Latham said. "The primary means of escape was unavailable to this family. They were trapped upstairs."
He said the Taufiq family had nothing to do with the stabbing but that the mother of one of the men accused of Mr Akpom's murder lived in the same street.
Mr Latham said: "They simply got the wrong house - a tragedy."
The family's father, Dr Taufiq Sattar - a paediatric neurosurgeon - was working in Dublin at the time.
He sat through the opening of the hearing in the public gallery.
The trial is expected to last up to eight weeks.
Earlier this month 19-year-old Hussain Hussain was jailed for a minimum of 15 years for the murder of Mr Akpom.
The jury failed to reach a verdict in the case of his co-accused Abdul Hakim, 19.