Traffic free Loughborough town centre work begins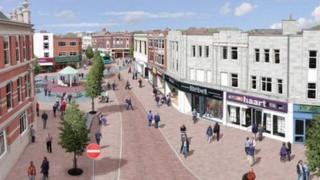 Work has started to pedestrianise part of a busy Leicestershire town centre road after years of planning.
The Market Place, in Loughborough, will be joined with busy shopping streets on the opposite side of the A6 Swan Street, as part of a £19.3m scheme.
Once the road is pedestrianised all traffic, including buses, will use the newly constructed inner relief road.
The northbound side of the A6, between Baxter Gate and Derby Square, will be closed to traffic during the work.
'Business as usual'
A consultation about the plans for complete pedestrianisation of the section of the road revealed some concern from bus companies and passengers whose stops will be moved away from the Market Place.
Roger Perret, chair of Loughborough's Business Improvement District, which represents businesses in the town, said: "We're keen to get the message across to bus users that it will be business as usual.
"There'll be plenty of stops available very close to our town centre to make sure it's as convenient as it possibly can be for them."
Mr Perret added: "We've been waiting a long time to join the two halves of the town together and it's important that we make use of the space.
"We've got a full event programme and plan for the town and some exciting events to look forward to."
Leicestershire County Council hopes the changes will bring investment to the town.
Councillor Peter Osbourne, the cabinet member for transport at the authority, said: "I don't see the disruption being too huge.
"Most of the disruption will be traffic getting used to the new flow.
"The new inner relief road is the one major asset that is going to take all the traffic away from the town centre."
More than 13,000 residents took part in a survey on making the road permanently bus-free of which 54% said they were in favour of the plans for complete pedestrianisation.