Rutland hit by 3.2 magnitude earthquake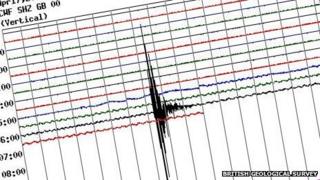 An earthquake has shaken parts of Rutland in the East Midlands.
Residents around Oakham reported feeling the 3.2 magnitude tremor just after 07:00 BST.
A British Geological Survey (BGS) monitoring station in Charnwood Forest, about 25 miles (40km) away, indicated the shock lasted several minutes.
The BGS said indications are that it originated 2.5 miles (4km) below ground. It was reportedly also felt in Lincolnshire and Northamptonshire.
There have not been any reports of damage or injuries.
The BGS has also confirmed the quake was preceded by a much smaller one in Solihull in the West Midlands which happened at 19:16 BST on Wednesday of 0.9 magnitude.
Many took to social media to share their experiences.
'Quakes aren't uncommon'
Former English rugby union player Austin Healey tweeted: "We've just had an earthquake in Oakham. The house was shaking for about 10 secs."
Sara Dodd, from Whissendine, tweeted it "felt like an explosion but without any sound".
Suzanne Sergeant, from BGS, said: "Quakes aren't uncommon in the UK. They occur as a result of the adjustments the geological structures make to the wider stresses that the UK experiences.
"Although we are not close to any plate boundaries we experience a slight squeezing as a result of the mid Atlantic ridge and the pressures that are put on the fault."
The largest known British earthquake occurred under the sea near Dogger Bank in 1931, with a magnitude of 6.1.
BGS said the UK is expected to experience a magnitude 5 earthquake about every 10-20 years.