The Charlotte in Leicester reopens as a pub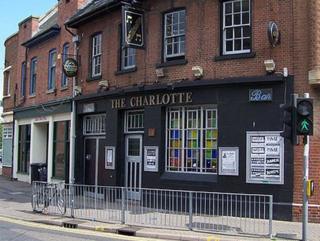 A live music venue that helped launch the careers of many famous bands has reopened after being closed for four years.
The Charlotte, in Leicester, will operate mainly as a pub, but will also hold music events.
Despite being a small venue it has hosted countless big names on the rise.
When Mojo magazine asked Noel Gallagher to pick his six top Oasis gigs he listed playing The Charlotte, in 1994, as his second favourite.
Previously known as The Princess Charlotte, it was originally a pub but built up its reputation as a music venue on the "toilet circuit" during the 1990s, particularly during the Britpop era.
Bands to play there have included Arctic Monkeys, Coldplay, Blur, Pulp, Radiohead, The Killers, Primal Scream and The Libertines.
Leicester band Kasabian also played there, and frontman Tom Meighan told the Leicester Mercury in 2009 that the expected closure was "awful".
New owner Tim Sturgess said: "It's a bit of a new era for The Charlotte because we are now not trading as a music venue anymore.
"I jumped at the chance to run it because of the history of the place."
Events manager Liz Barker-Carley said The Charlotte was like her second home as a teenager.
"I think I started going in 2003 and 2004 and I went nearly every single day until it shut down," she said.
"They had big touring bands and the smaller ones as well."
Its popularity dipped and the venue closed in 2009. It briefly reopened, then closed for good in 2010.
Student flats have since been built above the venue.
The pub interior has been refurbished but the layout is similar to how it was as a music venue.
Ms Barker-Carley intends to organise bigger live music events for the breaks when the students are not there, and smaller acoustic ones during term-time, so they are not disturbed by noise.
"Everyone is just buzzing about it now and I can't wait to see it as busy as it once was," she said.