Two Leicester Gypsy and traveller sites will start to be built this summer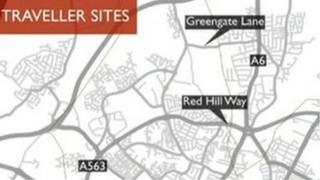 Work will start on two permanent Gypsy and traveller sites in Leicester this summer, the city council has announced.
The authority is spending £390,000 on the development of the sites at Redhill Way and Greengate Lane and £1.44m is coming from the government.
Both sites are set to be completed by March.
The council said giving Gypsies and travellers permanent sites would reduce litter and anti-social behaviour and allow it to evict troublemakers.
'Reduce not resolve'
Councillor Andy Connelly said: "Because we will be managing those sites we can manage the behaviour of people on those sites, whereas with an unauthorised site, we see debris left, anti-social behaviour.
"Ultimately if they don't behave we have the authority to evict them from the site."
Ten permanent pitches for caravans at Redhill Way and six at Greengate Lane were agreed by the council's planning committee in October.
Most of the 1,500 people who answered a public consultation last year were against the plans. Respondents suggested sites should be located near councillors' homes, council buildings or public spaces.
The government's Homes and Communities Agency is also funding the council's refurbishment of its existing Gypsy and traveller site at Meynells Gorse. Work to its 21 pitches will start later in the year.