Calls for volunteers to run Leicestershire libraries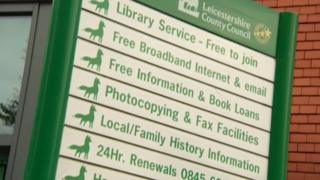 Residents in Leicestershire are being asked if they would consider running 36 libraries in the county.
The county council would retain responsibility for 16 of the busiest libraries but it wants volunteers to take over the rest.
The move would save the authority up to £800,000 a year from its £5.6m budget.
Councillors said it was too early to discuss closing any of the libraries. A consultation on the plans will run until 7 July.
Leicester County Council's head of libraries Nigel Thomas said: "We are not at the stage where we are talking about closures.
"It might be an option but at this stage we are seeking the public's feedback."
'Part of community'
Cabinet member for libraries Richard Blunt said less people were borrowing books and libraries were increasingly being used as "community hubs".
He said it was possible parish councils could eventually take over the running of their local libraries.
"Parish councils have a very important job to do and if they are running their local libraries as well they will really be a part of the community," Mr Blunt added.
"We are not saying that libraries are definitely closing, we need some help and most people understand it is a difficult time.
"Thousands of people responded to our survey on where they wanted the cuts to be and libraries didn't score very highly. That doesn't mean we want them to close, we just want help to run them."
If approved, the changes could be implemented by next year.