Loughborough foundry mends Christchurch earthquake bells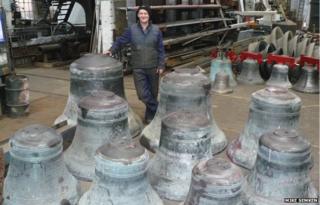 Cathedral bells damaged in an earthquake in New Zealand have been repaired by a Leicestershire bell foundry.
Some of the 13 bells from Christchurch Cathedral were cracked when the building collapsed during the earthquake in 2011.
They were originally cast at Loughborough's John Taylor Bell Foundry in 1978.
They will be housed in a temporary cardboard cathedral in Christchurch.
'Smashed to smithereens'
The bells fell from the tower during the earthquake on 22 February 2011.
Mike Semken, from the foundry, said: "The bells themselves were in remarkably good condition. It was all the fittings that were smashed to smithereens.
"The fifth bell was badly cracked. All the others were just scarred with dents and chips but actually quite sound. They ring very well."
After the foundry recast the damaged fifth bell, a Maori inscription was added, commemorating the earthquake.
Many buildings in the city, including the cathedral, were demolished after the 6.3 magnitude earthquake, which killed more than 180 people.