Antoin Akpom trial: 'Bad feeling between victim and attackers'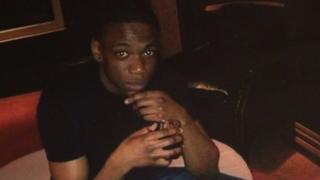 A 20-year-old fitness coach was stabbed to death in a fight stemming from "bad feeling" between him and one of his attackers, a court has heard.
Antoin Akpom suffered a fatal stab wound to his upper back in Kent Street, Leicester, on the evening of 12 September.
Stafford Crown Court heard he had an altercation with Hussain Hussain, 19, of no fixed abode and Abdul Hakim, 19, of Wood Hill, Leicester.
Mr Hussain And Mr Hakim deny murder.
Opening the case, prosecutor Richard Latham QC said Mr Akpom died in hospital 90 minutes after suffering a collapsed lung.
He said it was obvious from evidence there was "some bad feeling" between Mr Akpom and Mr Hakim, which seemed to have been going on for about a year.
CCTV footage from the Kent Street area showed Mr Akpom getting out of the passenger side of a Fiat Punto to confront Mr Hussain and Mr Hakim.
"There is nothing in the evidence to suggest that the two men who were walking were intending to do other than continue along the street," Mr Latham told the court.
The footage then shows the Fiat driver getting out during the confrontation, before both men apparently get back in and drive along Kent Street.
Mr Akpom is then seen running towards a gym before jogging back towards the defendants, followed by a group of up to nine people, Mr Latham explained.
"Frustratingly, although there are several cameras, the precise place where the stabbing happened is not covered by a camera," he said.
Jurors were asked to view still images from CCTV cameras, including some showing Mr Akpom with his back towards the camera after he had been stabbed.
Mr Latham said it was accepted by the defence that both defendants were involved in the incident but what they had each done at the scene was in dispute.
The jury was also told that hours after the stabbing, an arson attack took place on a house two doors away from Mr Hakim's family home, resulting in four deaths.
This, the prosecution said, would be dealt with at a separate trial.
The case continues.