Leicestershire hospitals 'still need improvements', says CQC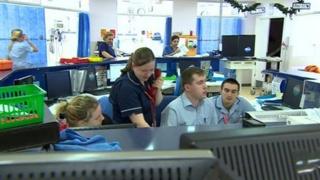 Health inspectors have said there is still room for improvement in some Leicestershire hospitals but overall services were "safe" and "effective".
The Care Quality Commission (CQC) visited four hospitals after they were previously rated as "high risk".
The report said changes were still needed to areas such as A&E targets, training and bed management.
The University Hospitals of Leicester NHS Trust said it would tackle issues over staffing and pressure on A&E.
Prof Sir Mike Richards, chief inspector of hospitals for the CQC, said the trust was providing "safe, effective, responsive, caring and well-led" services.
He said: "Staff we spoke to were positive, and patients we spoke to were positive about the care that they had received at the trust."
However, he said inspectors would be returning "to assess whether the necessary changes had been made" to services which required improvement.
The University Hospitals of Leicester (UHL) NHS Trust had been criticised after Leicester Royal Infirmary was identified as one of the worst-performing hospitals in England.
In December, only 73% of A&E patients were being seen, treated and discharged within four hours - missing the national target of 95%.
'Overwhelmingly caring'
A team of health professionals visited the hospitals in January as part of a more rigorous inspection scheme introduced by the health watchdog.
The team highlighted that staff levels were still low although they acknowledged a recruitment plan the trust now has in place.
The report also advised the trust to ensure staff were given the appropriate training and support.
Areas the trust has been told it must improve on include reviewing resuscitation practice and equipment to ensure the safety of patients and understanding the risks of unsafe and dirty equipment found in medical wards.
Inspectors said they also spoke to staff who described a culture of bullying and harassment and a fear of speaking to managers.
Some staff said they "felt unsupported and unable to voice their concerns" while others felt the organisation's culture had changed as new senior staff encouraged people to speak out.
However, the report said a recent staff survey showed a drop in the number of people reporting they had experienced bullying or harassment at work.
John Adler, chief executive of the trust, said: "I think this is an absolutely fair reflection of where we are on our journey to becoming a truly outstanding trust.
"The inspectors found that services were safe, effective and most encouragingly that staff were 'overwhelmingly caring' and willing to 'go the extra mile' for our patients."
He said the trust would tackle issues over staffing and pressure on A&E and agreed they required improvement.
Mr Adler said: "The inspectors noted that there were two key issues which could, if not tackled, derail our plans to improve the quality of our services."