Leicester Royal Infirmary apology over surgery mistake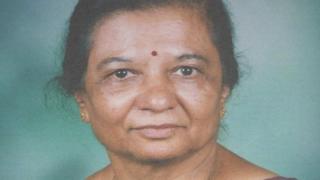 A hospital has apologised to the family of a woman who died after a locum surgeon operated on the wrong part of her body.
Lalitaben Patel, 71, suffered brain damage after three holes were mistakenly made in a major artery during gall bladder surgery at Leicester Royal Infirmary in 2012.
Surgeon Mudhafar Alhiwidi had his contract immediately terminated.
The General Medical Council (GMC) said the doctor was being investigated.
'Heartfelt apologies'
Dr Kevin Harris, medical director for Leicester Hospitals Trust, said during Mrs Patel's operation a blood vessel was damaged near the common bile duct which later gave way.
He said it caused "significant deterioration" to her condition leading to brain damage and her death several months later.
It was two hours before operating theatre staff noticed the procedure was going wrong and called a senior surgeon to take over.
Dr Harris said: "We have changed our vetting process for locum surgeons to ensure that they are capable of operating to the same high standard as the surgeons we employ directly."
He added: "I offer my heartfelt apologies and deepest condolences to Mr Patel and his family for their loss."
The family said it did not want another patient to be operated on by an inexperienced surgeon and wanted more checks to be carried out by hospitals on locum doctors.
Mr Alhiwidi, who is being investigated by the GMC, cannot work in the private sector and must be supervised when carrying out certain operations.