Businesses 'hit' by Leicester Belgrave flyover demolition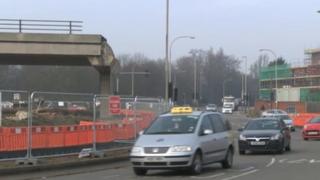 Businesses near a Leicester flyover which has taken nine weeks to demolish say they have seen trade drop significantly.
Work to demolish and remove the 1970s Belgrave flyover has now been completed.
But several businesses say custom has dropped by more than 50% and they are worried about paying bills.
Leicester City Council said it had tried to minimise disruption and work was completed three days early.
The flyover has been removed as part of a project to improve connections between the Golden Mile and Leicester city centre.
"It has been a massive project and it's inevitable that some businesses would be affected," said Martin Fletcher, head of highways at Leicester City Council.
"We've tried to minimise the impact, maintained access to premises the best we can and we've tried to get the job done as fast as possible.
"It's now much lighter and more open so trade should go up."
Kunal Gokani, assistant manager of the nearby Asha charity shop, said takings had dropped significantly.
"On a normal day, we take more than £100 but one day this week, it was just £25," he said.
"It's quite worrying because of all the rent and stuff to pay."
The manager of the Lucky Superstore said he was struggling to pay bills as business had dropped by about 60%.
The landmark was closed on 1 February.
Redevelopment work includes making changes to the roundabout and a new car park.
The majority of the work is expected to be completed by October 2014, in time for Diwali celebrations on the Golden Mile and Cossington Street Recreation Ground.