Mallory Park: Ombudsman upholds Kirkby Mallory residents' noise complaints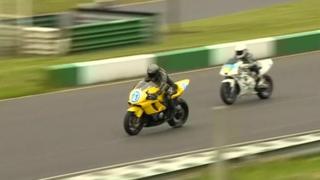 A council should pay £7,500 to villagers who complained about noise from a renowned Leicestershire race track, an ombudsman has recommended.
Kirkby Mallory residents complained that the previous operators of Mallory Park had increased the number and duration of events in recent years.
They said Hinckley and Bosworth council had failed to take action, despite an enforcement notice being in place.
The council said it will accept the ombudsman's recommendations.
'Tremendous distress'
A 1985 enforcement notice dictated how many days the track could be used a year and restricted noise levels.
Local government ombudsman Dr Jane Martin said that in 2012, events were planned for 27 of the 32 Saturdays between April and October 2012, when the notice said there should have been just four.
"Neighbours living in the village accept that there will be some noise from the track, but what these people had to put up with was unacceptable," she said.
"At times they have described the noise as intolerable. They were not able to enjoy their homes and gardens for months on end and for them there seemed to be little respite or redress."
A resident, who did not want to be named, said some villagers live just 75 metres from the circuit's hairpin bend where the noise could be "extreme".
"The noise issue has caused tremendous distress to quite a number of people," she said.
The previous owners of Mallory Park went into administration in November after the council took them to court in August 2013 - 17 months after residents first complained to the council.
Council chief executive Steve Atkinson blamed the delay on "balancing its responsibilities" to control noise and "promote economic well-being", but said he would be recommending that councillors accept the findings.