Emma Fay turns contortionist into 'human tarantula'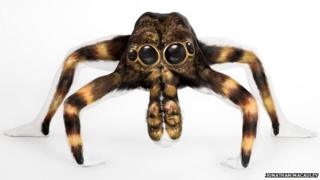 At first glance this image of a tarantula is realistic enough to scare an arachnophobe.
But a closer looks reveals it is actually a woman, painted to look like a spider by concept body artist Emma Fay.
Miss Fay, from Leicester, is creating a series of illusionary images combining body painting with contortion.
She has also painted a contortionist to look like a giraffe, and the next image will be of a seahorse.
Miss Fay said: "You get a brilliant response and people find it fascinating.
"There are lots of amazing body artists and I'm not the first to paint animals, but this is with contortionists.
"I've not seen this done with full contortion poses where they are using these bends."
Miss Fay works with photographer Jonathan Macauley and two contortionists - Lowri Thomas and Beth Sykes.
The poses they have to bend their bodies into are so difficult they can only be held for minutes at a time.
This means they have to repeatedly go in and out of position while Miss Fay paints their bodies over several hours.
"They literally have to bend themselves into position so they can do it," said Miss Fay.
The 27-year-old learnt her make-up skills while running a hair and beauty salon.
"I've always, from childhood, been into art," she said.
"I've taught musical theatre and drama since I was about 18 as well, so theatre, health and beauty and art combined to become this crazy body art."