Golf courses run by Leicester council may close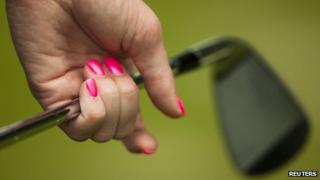 Two Leicester municipal golf clubs in Leicester could close at a time when the city council aims to save £90m by 2018 as part of government cuts.
Leicester City Council subsidises Western Park and Humberstone Heights golf courses by £150,000 every year.
The public have been asked whether funding for the clubs should continue, which is more than double per visit compared to other sports in the city.
A local golf organisation said it was concerned about the possible move.
The public consultation will run until 18 April.
Leicester Mayor Sir Peter Soulsby said sports centres in the city costs the authority about £1.70 per visit to subsidise, but the cost for a single visit to its golf sites was between £3.60 and £7.
"Last year, Western Park was costing £7 a head in subsidy for every round that was played... in these times is it a good use of public money?" he said.
'Expensive' minority
"A lot of people are choosing to play at other golf courses in the city and county at a similar cost to the city council courses or sometimes at a cheaper rate."
Sir Peter added: "A typical sport centre in the city will have over 200,000 users every year.
"The two golf course get under 30,000 each, so it does mean that they are very much a minority and expensive provision per head."
Melanie Flude, from Leicestershire and Rutland County Golf Partnership, said: "Golf is one of the top five sports in the country where people participate.
"So for golf courses to disappear in Leicester when we are trying to get more players and members, trying to work with clubs to make them stronger is really disappointing."
Leicester golfers have planned to march in the city centre in an attempt to save the council-run courses.