PCC Sir Clive Loader seeks judicial review over Lubbesthorpe housing plan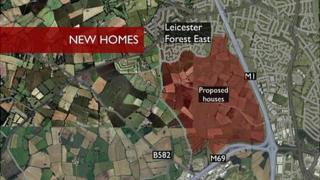 A police chief is seeking a judicial review over plans to build new homes in Leicestershire as he believes the size of the development will put a strain on policing.
Leicestershire Police and Crime Commissioner Sir Clive Loader said 4,000 extra homes at Lubbesthorpe would put "acute pressure" on the force.
He said the funding set aside by developers for policing was insufficient.
The council defended the decision.
Plans to build more than 4,000 homes were given the go-ahead by the district council in January after developers pledged £40m in Section 106 money - funds set aside for the community to offset the impact of a development.
About £2m was set aside for policing.
'Untenable' situation
"The police are not opposed to the building of new homes, but if the funding isn't put in place during the early stages of development, the impact on the service offered by police across the county will be unacceptable," Sir Clive said.
"As a consequence, acute pressure will be placed on the force's ability to police the development effectively, which is likely to impact on policing elsewhere.
"The current situation is therefore untenable."
Blaby District Council leader, Councillor Ernie White, said he was "disappointed".
He added: "We are confident in our planning decision making process and consider the permitted development will provide the infrastructure and services required to deliver a sustainable community at Lubbesthorpe."