'Moronic' Joshua Bonehill-Paine admits Leicester pub hoax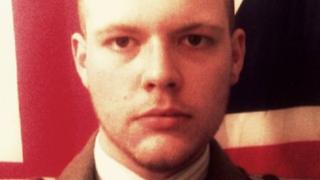 A man describing himself as "a rising star of the right-wing community" has admitted being behind an internet hoax about a pub banning military personnel.
On his website the Daily Bale, Joshua Bonehill-Paine wrote an article claiming The Globe, in Leicester, had banned British armed forces to avoid offending the immigrant population.
The 21-year-old, from Yeovil, admitted one charge of malicious communication.
Security expert Graham Cluley branded the Daily Bale as "frankly moronic".
Death threats
The Globe had to close temporarily after the hoax spread through social media.
The false claim led to people threatening to firebomb the premises, and kill or assault staff, Yeovil Magistrates' Court heard on Thursday. The hearing was adjourned and Bonehill-Paine will be sentenced on 4 April.
Bonehill-Paine and the Daily Bale have been responsible for other false claims published online but he has not been prosecuted over these.
Last year his website created a hoax missing person poster, claiming a six-year-old girl had been "kidnapped by an Asian grooming gang".
The hoax poster went on to be shared thousands of times on Facebook and Twitter, with many people believing the claim to be true.
Speaking to BBC Asian Network, Bonehill-Paine said he wanted to create "a shocking campaign" that people would "share quickly on social media".
Another article posted on the website in September falsely claimed an Asian youth had punched a two-month-old baby twice in the face, then thrown the infant against a brick wall in Middlesbrough. It contained a graphic photo of an injured baby.
Bonehill-Paine told the BBC that the article was written by a member of the English Defence League and "stupidly we allowed it to be put out without researching the actual article first".
He said: "The Daily Bale is a response to left-wing politically correct internet trolls that have repeatedly attacked me. The Daily Bale was my personal response."
Referring to the court case, Bonehill-Paine said he had targeted The Globe because he wrongly thought that somebody working there had written an article criticising him.
"The owners of The Globe pub were completely innocent in all of this," he said.
"This was only something I learnt recently, and it's going to lie on my conscience for a long time."
Chris Bulaitis, managing director of the pub group, said: "We had over 1,000 calls on the Saturday of people threatening to firebomb the pub, beat up the staff, who believed, absolutely believed, that we had banned military personnel.
"The only thing we could do was shut the pub for the safety of the customers and our staff."
Graham Cluley, an independent computer security analyst, said: "I think what they [the Daily Bale] are doing is utterly irresponsible and frankly moronic.
"In the old days before the internet and social networks existed, this would just be one idiot down the pub.
"It's all very well having views about race and immigration, and you can have freedom of speech, but you shouldn't spread things designed to cause this kind of trouble and potential harm to others."
Laura Higgins, helpline manager at UK Safer Internet Centre, said internet crime was often not investigated by police because people do not report it.
"If you feel somebody is being harassed and you know that person, then encourage them to go to the police, or go to the police themselves," she said.
A spokesman for the Metropolitan Police said the force had received no complaints about the missing child appeal hoax.
A spokeswoman for Cleveland Police asked people not to share posts about the baby attack hoax, and said an officer would be "looking at where this originated and seeing if any action needs to be taken".