Leicester Belgrave flyover demolition work starts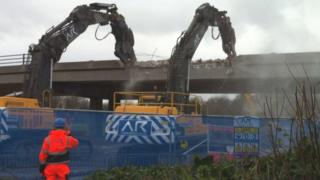 Demolition work has begun on large sections of a Leicester flyover built in the 1970s.
Some roundabout exits underneath the Belgrave flyover will be completely closed to all traffic for nine days while the work is being carried out.
The nine-week project is part of plans to regenerate the city's Golden Mile and improve connections between the area and the city centre.
The landmark has been closed since 1 February for preparatory work.
About 1,000 residents took part in a consultation to choose how they wanted the work to be carried out.
About 70% opted for the work to be completed within nine weeks, rather than taking 14 weeks with the use of lane closures.
Second closure
Leicester City Council has advised motorists to continue to use alternative routes or to use park-and-ride services during the road closures, which will remain in place until 23 February.
A number of bus routes will also be diverted.
Another nine-day closure is due to take place from 15-23 March to remove the final section of the flyover.
Once this is completed the second phase of the redevelopment work will begin, which includes making changes to the roundabout and a new car park.
The authority said the majority of the work would be completed by October 2014, in time for Diwali celebrations on the Golden Mile and Cossington Street Recreation Ground.