Sikh leader attack: Sri Satguru Uday Singh Ji attack jury discharged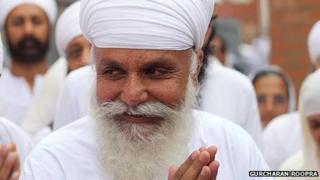 The jury in the trial of a man accused of an assassination attempt on a Sikh religious leader has been discharged.
Harjit Singh Toor admitted wounding after attacking Sri Satguru Uday Singh Ji with an axe during a religious ceremony at a Leicester temple but denied attempted murder.
On Friday, after five hours of deliberation, the jury said there was no reasonable prospect of a verdict.
A decision will be made in the next two weeks whether or not to hold a retrial.
The prosecution said the attack, on a man police described as the worldwide spiritual head of the Namdhari community, was motivated by religious hatred.
The court was shown footage of the moment Mr Toor pulled out an axe at the Linden Street Gurdwara, in August last year, and hacked at the guru as he sat cross-legged.
He disguised himself in the white robes of the Namdhari to enter the temple unchallenged, the prosecution said.
The bank worker, a mainstream Sikh, said he bore no animosity towards the Namdhari community but accepted it was wrong and the "biggest mistake" he had ever made.
He told the court it was a revenge attack for sexual abuse he suffered as a child when visiting India.
The jury retired on Thursday evening but, even after the judge said he would accept a majority verdict rather than unanimous, it failed to reach a decision.