Man runs down 'Every Street' in Leicester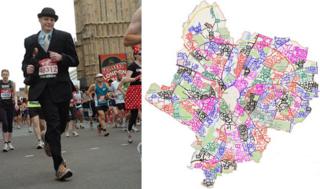 An accountant has completed a three-year challenge to run down every street in Leicester.
Duncan Clarke finished the 735-mile mission at the aptly named Every Street in the city centre at about 11:30 GMT.
The idea was sparked by memories of his grandfather Barri Clarke joking that he had "walked down Every Street in Leicester".
"When I was a kid I wondered if he actually had walked every street," said Mr Clarke.
His grandfather made the joke when Mr Clarke, now 37, was aged seven.
"Then three years ago when I was in Leicester I remembered his joke and I started the run the next week," he said.
He set off from Helmdon Road on 27 February 2011 and has completed more than 80 runs, producing a map by logging them on a GPS tracking device.
Strange looks
He has spent the last two months running along the many new streets which have been created since he started his run.
He said he has received a few strange looks - especially when running up dead ends then straight out again.
"Dead ends are the worst because you've got to do double to get the street done," he said.
"I did run past a bright kid in Astill Drive near the Red Hill Roundabout who guessed what I was doing.
"I heard him tell his mates that I was running on every street - little did he know how right he was."
He hopes to raise £1,000 for Leicestershire Cares, a charity associated with his employer, CS Ellis.
The running has also helped him train for marathons.
Mr Clarke, who grew up in Evington, added: "It's nice to go down my old childhood streets and places I've lived all my life but it was as much about seeing the ones I didn't know as the ones I did."